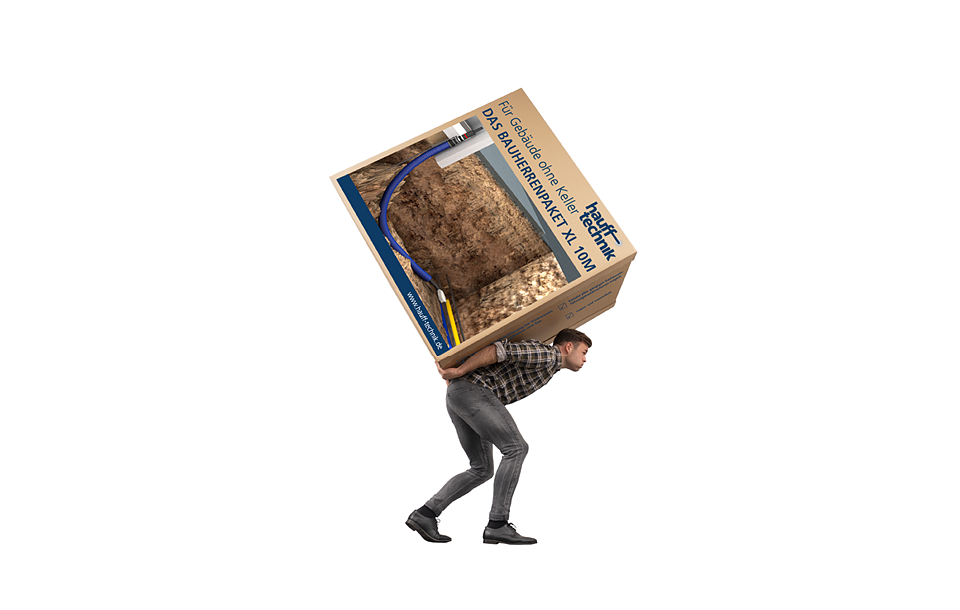 Now even bigger!
Until now, Hauff-Technik's building package was only available for detached and semi-detached houses, as the pipe cross-section was limited to a maximum of DN40 by the size of the building entry.
With the new XL building package, larger apartment buildings as well as industrial and commercial buildings can now also be served. The building entry and the empty conduit system have been enlarged in order to reliably seal pipe diameters of up to DN50. Regardless of whether it's electricity, water or gas supply lines, the newly configured XL building package covers everything.

As usual, the new package includes a basic insert for direct concreting into the slab using the proven Hauff-Technik three-ribbed seal. Thanks to the variable installation fixture, the XL building package also allows for height adjustments. The sealing element is the suitable seal for drinking water and electrical lines with an outer diameter of 18 to 65 mm. The flexible DN 110 duct with a length of 10 metres (included in the scope of delivery) allows for a superstructure of about 8 meters. This means that the duct trench can be closed again immediately after laying the duct. It is also possible to lay the media lines subsequently without any issues. The end sleeve for sealing at the end of the duct rounds off the XL building package.